Descendants of Giovanni Polito

Giovanni was born Giovanni Politi in Cosenza, Italy in 1883, to Domenicantonio Politi and Rachele Demarco. Somewhere along the line the surname was changed to Polito.
On 24 Sept 1904, he married Vincenza Macchione, the daughter of Lorenzo & Rosa Nucci in Malito, Cosenza Italy.
On *1 June 1905, a 21 year old Giovanni left his wife in Italy and departed for Colorado with two of his friends. He never returned to Italy. On *23 Jan 1908, Vincenza joined her husband in hopes of starting a new life. Unfortunately, this wasn't the case. Vincenza did not like living in Colorado but Giovanni did so the two eventually separated.
*Note: Images are linked to Webpages by Stephen P. Morse. The site is free to use, but you must register a username name and password in order to view the actual images.
War Records
In 1918, John registered for the WW1 Draft as many Italian immigrants did..most likely to try and obtain his American citizenship quicker. He never ended up fighting in the War, nor did he ever Naturalize. My guess is because there was an error in his birth act which was later corrected.
Obituary
It was originally thought that Giovanni was born in Rogliano, Cosenza since his brother Carmine was born there, but after obtaining his birth record, we found that John was actually born in Cosenza City and that his father, Domenicantonio was married more than once.

From the CHRONICLE NEWS-July 6, 1954, here is John's obituary:
Giovanni Polito of Segundo Died Sunday Night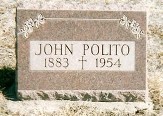 Giovanni Polito past 71 years old, retired coal miner of Segundo and well known in the community, passed away Sunday midnight at the local hospital after an extended illness.
He was born in Rauliano, Italy, January 21, 1883 and had come to Segundo in 1906, working at the coke ovens there until 1925, later until his retirement working in the Valdez coal mine. He was a member of the Valdez local union United Mine Workers.
He is survived by four brothers, Carmen Polito of Sunnyside, Utah, and Pete, Vince and Emilio Polito in Italy. He had been most intimately associated with the families of Mr. and Mrs. Frank Caporale, Mr. and Mrs. Harold Anderson, and the Sebastianelli family.
Funeral arrangements by Mullare Funeral Home.
Burial in the Catholic Cemetery.
Giovanni Polito is buried in the Catholic Cemetery, section 7, row 10, grave 44. He has a small headstone.
Read about Colorado's first Catholic Church, Trinidad Catholic Church.
Vincenza Macchione
Vincenza Macchione was born in Malito, Cosenza, Italy and was the daughter of Lorenzo and Rosa Nucci. After joining her husband in Colorado, Vincenza gave birth to Antonio on 10 Oct 1910 and to Erminia on 30 March 1912. Shortly after, she became pregnant with her third child, Vincenza took Antonio and Erminia and went back to her family in Malito. Eugenia was born 1 April 1915 in Malito. Neither Vincenza nor her children ever saw Giovanni again. They did however communicate through letters and thanks to Marie Polito, Giovanni's niece, I was fortunate enough to be given all of his personal papers and pictures. This also included Vincenza's 1909 Passport.
more about the Macchione's... »
A very special Thank You to Alice Romeo from the Trinidad, Colorado Library who not only helped with records for my family, but also located Giovanni's grave and took the pictures of his headstone for me.
The library is located at:
Carnegie Public Library
202 N Animas St
Trinidad, CO 81082, USA
(719) 846-6841
Home... »